The Early Years
Sport-Med was established by Tim Deykin in 1988. At that time there was no other full time town centre physiotherapy or sports injury clinic in operation within Stockport.
The clinic was established to provide physiotherapy service to the people who work in Stockport, whether in the professional, commercial, industrial or retail sectors of the town. Essentially for the workers of Stockport the practice opening hours cover the working week, but was closed at the weekends.
As the reputation of Sport-Med grew, people travelled in from the outskirts of Stockport too. And not only for the treatment of sports injuries, but also gained a reputation in the treatment of back and necks problems with a new technique from New Zealand called the McKenzie Technique.
Sport-Med blends together the latest in Sport Science and Medicine.
The clinic is situated on the ground floor of Norbury Chambers and the corner of Norbury Street in Stockport. The clinic consists of a reception/waiting room and two large treatment rooms. These are modern, bright, clean and private. They are fully equipped and each contains state of the art electrotherapy equipment, and electric adjustable examination/treatment couches.
If you have you children with you, you will find us quite child friendly. We have colouring books, some reading material and a few toys to keep them occupied, and stickers to reward good behaviour, or as a last resort and with your permission we have a lollipop!
Why Choose Sport-Med ?
Most People look in the Yellow Pages to find a Physio, but the biggest and brightest advert is no indication of how good the treatment or advice is likely to be! That's why we rely on personal recommendation from family, friends and work colleagues or friends in sport. We know that if you're delighted with the outcome of your treatment, then you'll tell your friends. So remember that we don't want you to be just satisfied with your treatment, we want you to be really happy with what we've done, and if you're not, then we want you to let us know. That way we can maintain our high standards and our excellent reputation.
At Sport-Med you have confidence in the fact that you will be in the hands of Professionals who are committed to providing high quality treatment and advice. We know that when you are choosing somewhere to have treatment you want to be sure you will receive excellent medical care. We have made it our business to be at the cutting edge of the latest therapeutic techniques and protocols, to offer you the very best in physio / rehabilitation care.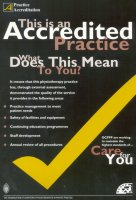 By working together as practitioners we get the best possible overall picture of your injury / condition and of factors that are likely to play a part in the progressive recovery from your injury. In doing so, this will help you recover as quickly and completely as possible. You will also learn rehabilitation exercises and strategies to prevent recurrence. As such you will be involved in the process and learn how you can take positive steps to help yourself from the outset, and when to tell if something's going wrong! Most of our patients know nearly as much about their condition as us, by the time they are discharged.
In some cases we are unable to help, or we feel that you could progress faster by following an alternative course of treatment or investigation. You can be sure that we will make well-reasoned recommendations to you, and help you in the choice of selecting the appropriate referral and make sure that you are directed to see a specialist with an excellent reputation in treating your particular condition.
Our aim is to treat each patient as an individual, as every injury has its own precipitating factors, and every individual has strengths that can be utilised to optimise the recovery process.