Tim Deykin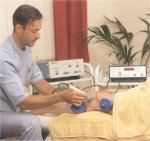 Following his interest in sport and science subjects at school Tim completed the first Sport Science BSc Degree course in Liverpool in 1980. He continued with research into the 'effects of sleep deprivation on human performance' combined with the role of President of the Students Union. The following year he commenced a Masters Degree at the University of Western Ontario, Canada, but having suffered an knee injury whilst teaching sport, he returned to Britain before its completion in order to register on a Physiotherapy Training Course.
He spent three years at Withington Hospital School of Physiotherapy (which was recognised as one of the best school in the country) and qualified in 1985 gaining Professional eligibility and Membership of the Society of Chartered Physiotherapists.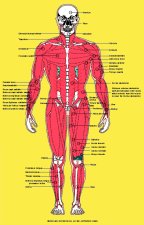 He sought employment at one of the top Sports Injury Clinics in the North West working in St John Street in Manchester City Centre. After only a few months whilst treating the Captain of Great Britain Rugby League Team, Harry Pinner, Tim was head-hunted by St. Helens RLFC.
At St. Helens Tim re-organised the treatment facility, working three to four evenings a week and both days at the weekend, and covering all the scheduled training sessions and first team matches. He gained invaluable experience, dealing with a continual barrage of acute soft tissue injuries, and having to get the players back on the field for the next match.
He went to Wembley twice with St. Helens in the Silk Cut Challenge Cup Final's in 1987 and 1989. He was also the Team Physio for the Lancashire RLFC Team and for the Rest of the World Team when they played Great Britain in 1989. The Rugby League secured Tim's services to attend all GB Squad training camps and Fitness Assessments and he was also Team Physio to the GB Academy RLFC Squad.
In 1989 he had a chance meeting with his canoe slalom coach who was the GB Team Coaching Staff at the time, and was asked if he could provide physio cover for a series of races in Europe during the closed season.
He subsequently relinquished his post at St Helens to follow his favourite sport of Slalom Canoeing and attended the World Championships in the USA in 1989 and the former Yugoslavia in 1991. (which finished only days before war broke out!)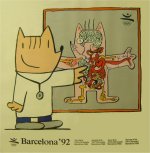 Tim travelled with the team all over Europe working not only as the team Physiotherapist but also helping out with team logistics and assisting the coaching staff. His work with the Team culminated in 1992 when he attended the Barcelona 1992 Olympic Games at the La Seu Slalom site.
Having married the previous year to Alison (another slalom canoeist) he decided to spend a little time at home and relinquished his post with the team.
Tim had gained seven years of very intense, high-pressure sports injury management experience. Despite the weekend working schedules preventing him from attending many post graduate courses, he managed to make time to attend a few of the cutting edge training courses, keeping fully up to date with the latest breakthroughs in Physiotherapy and Sports Medicine.
Tim's Post-Graduate Courses
YEAR
PLACE
TUTOR
TOPIC
1982
Liverpool
Dennis Wright
Sports injuries
1988
Warrington
Malcolm Robinson
Back Pain Mckenzie Part A
1988
Nottingham
Malcolm Robinson
Neck Pain Mckenzie Part B
1988
London
Peter Wells
Adverse Mechanical Tension
1988
Manchester
Seminars
British Assoc. of Sports Medicine
1989
Liverpool
Peter Legeard
Back & Neck Pain Mckenzie Part C
1989
Stockport
Martin Weingarten
Spinal Dysfunction Kaltenborne Technique
1989
London
Brian Edwards
Back & Neck Pain Combined Movements
1989
Derby
Andy Sweaney
Repetitive Strain Injuries
1989
Manchester
Seminars
British Assoc. Sports Medicine
1990
Birmingham
Ace Neem
Back Pain Mckenzie Part D
1990
London
Bob Elvey
Adverse Neural Tissue Tension
1990
Stevenage
Brain Mulligan
Back & Neck Pain NAGS and SNAGS
1990
Stratford
Seminars
Cranio-mandibular disorder - TMJ -Whiplash
1990
Newcastle
Andy Sweaney& Dr Phil Evans
Repetitive Strain Injury and Adverse Neural Tissue Tension
1991
Birmingham
Ace Neem
Back & Neck Pain Mckenzie Part D refresher
1991
Birmingham
Western Style Acupuncture for Pain Relief
1991
London
Peter Wells
Adverse Neural Tissue Tension
1991
London
Brain Mulligan
Back & Neck Pain- NAGS and SNAGS
1992
Letchworth
Leon Chaitoe
Cranio-sacral Manipulation-12 day course
1992
Sheffield
Andy Sweaney
Adverse Neural Tension
1992
York
Seminars
Medico-legal Workshop (OCPPP)
1992
Manchester
James Carroll
Lazer Therapy
1993
Sheffield
Bernard Nolan
Shiatsu Oriental Medicine
1993
Manchester
Diane Farragher
Eutrophic Stimulation for Bells Palsy
1993
Manchester
Tempero-mandibular joint dyfunction
1993
London
Jenny McConnell
Patello-femoral Taping Techniques
1993
Nottingham
Seminars-ACPOH
Ergonomics with Practical Applications
1993
Abergaveny
Brain Edwards
Back & Neck Pain Combined Movements
1993
Peterborough
Seminars OCPPP
Computer Software in Medicine
1993
Keele
Paul Bartlett
Langer Lower Limb Biomechanics Course
1993
York
Professor Mariano Roccabardo
Cranio-cervical and Cranio-mandibular Dysfunction
1993
Harrogate
Jeff Boyling & Mark Comerford
Muscle imbalance implications of Repetitive Strain Injuries
1993
London
Prof Nikoli Bogduk
Cervical Headaches-Seminars & Workshop
1993
London
Prof Nikoli Bogduk
Update on the Lumbar Spine (MACP)
1994
Sheffield
Louis Gifford
Advanced Adverse Neural Tissue Tension
1994
London
Pete Emerson
Pelvic Somatic Dysfunction and Corrective MuscleEnergy Techniques
1994
Harrogate
Mark Comerford
Muscle Imbalance - Trunk Stability/Back Pain
1994
Liverpool
Jeff Boyling
Overview of RSI and muscle imbalance
1994
Manchester
Prof Vladamir Janda
Motor Recruitment / Muscle Reprogramming
1994
Manchester
Louis Gifford
Clinical Biology of Aches and Pains
1994
Edinburgh
Gwen Jull
Update - Lumbo-pelvic Restabilisation
1994
Edinburgh
David Butler
Update - Neuro-meningeal Dynamics
1995
Liverpool
Dave Fitzpatrick
Work Related Upper Limb Disorder
1995
Liverpool
Jeremy Lewis
Myo-fascial pain / Shoulder Impingements
1995
London
Seminars
Recent Concepts in Pain Science
1996
Edinburgh
Caroline Richardson
Update on Lumbo-pelvic Restabilisation
1996
Liverpool
Mick Thacker & Louis Gifford
Whiplash and Chronicity
1996
Edinburgh
Paul Hodges
Update on Trans Abs and Muscle Imbalance
1997
Manchester
Seminars
Current Trends in Sport
1997
Manchester
Glen Hunter
Dynamic Tissue Healing / Effects of Physio.
1997
Cheltenham
Dr Phil Evans
Prosection Study of Knee Pathology
1997
Southampton
Prof James Taylor
Clinical Pathology - Cervical & Lumbar Spine
1997
London
Dr Phil Evans
Prosection Study of the Shoulder Girdle
1997
Huntingdon
Dr Phil Evans
Proscetion Study of the Elbow & Wrist
1997
Manchester
Seminars-GP Forum
Back and Groin Pain
1997
London
Seminars
Rehabilitation for Back Pain
1998
Manchester
Louis Gifford
The Problem of Nerves
1998
Manchester
Seminars GP Forum
Aspects of Orthopaedics
1998
Manchester
Dr Tim Watson
Electrotherapy Update
2000
Manchester
Louis Gifford
Aches and Pains- Graded Exposure
2000
Manchester
Dr Nigel Lawes
Pain Science and the Patient
2000
Manchester
Dr Nigel Lawes & Louis Gifford
Current Thinking on the Problem of Pain
2000
Manchester
Seminars- GP Forum
Lower Limb Biomechanics
2000
Liverpool
Vladamir Bobic
Lower Limb Pathology and Biomechanics
2001
Derby
Louis Gifford
Symposium on Pain
2001
Bristol
Glen Hunter
The Soft Touch -Tissue Healing Dynamics
2001
Daventry
Football Assoc.
Sports Injury Conference
2001
London
Seminars
Back Pain Pathophysiology
2001
Liverpool
Seminars
Sports Injury, Surgery and Rehabilitation
2001
Sheffield
Seminars
Current Trends in Lower Limb Rehabilitation
2002
Manchester
Seminars
Upper Limb Sports Injury & Management
2002
Manchester
Seminars
Growing Pains in Children
2002
Warwick
Tony Wilson
Anterior Knee Pain- no tape required
2002
Nottingham
A Taylor & R Kerry
Altered  Haemodynamics
2002
Liverpool
Seminars
Sports Injury, Surgery and Rehabilitation
2002
Liverpool
Prof Gordon Waddell  & Paul Watson 
Working Backs
2003
Stockport
Jo Gibson
The Shoulder: What's new?
2003
Manchester
Howard Turner
EMG Biofeedback
2003
Manchester
Warrick McNeil
Ultrasound imagin, trans abs
2003
Liverpool
Dr Jill Cooke
Tendinopathies
2003
Daventry
Football Assoc.
Sports Injury Conference
2003
Liverpool
Seminars
Sports Injury, Surgery and Rehab
2004
Rotheram
Amanda Blake
Understanding MR and Ultrasound imaging
2005
Rotheram
Dean Watson
Role of C0-3 in Benign recurrent Headache
2005
Sheffield
Tony Wilson
The Shoulder Unplugged
2005
Epsom
Dr John Reynolds
Acupuncture Update and Review
2005
Manchester
John Annan
Myofascial Release Level One
2005
London
Dr J Bullock-Saxton
New Exercises with Bands and Balls
2005
Nottingham
Dr J Bullock-Saxton
About Muscles
2005
Nottingham
Joanne Elphinston
Functional Stability Level One
2006
Oxford
Joanne Elphinston
Functional Stability Level Two
2006
Loughborough
EIS East Midlands
ISO.com and KING.com Training Update
2006
Loughborough
Ron Sharp
Acupuncture and Sports Injuries
2007
London
Dr Chan Gunn
Intra-muscular dry needling Part one
2007
Prague
Dr Van Hagen
Body Works Exhibition
2007
London
Dr Chan Gunn
Intra-muscular dry needling Part Two
2007
Cambridge
Dr Dean Watson
C0-3 Benign Headaches Level Two
2007
Reading
Tony Bettison
Sports First Aid and Trauma
2008
Bolton
Mr Gordon Shephard
Recent advances in knee surgery in sport
2008
Manchester
Dr G Van Hagen
Body Works Exhibition
2008
Cambridge
Dr Dean Watson
One-on-One study day/tutorial
2008
Stoke
Haken Alfredson
Tendinopathies - Patella and Achillies
2008
Birmingham
N/A
Diagnositc Ultrasound Imaging
Courses & Lecturing
I have run several weekend courses at Stepping Hill Hospital on ' Understanding Necks and Backs' for other practitioners, and have also run another weekend course on Knee and Shoulder rehabilitation, re-stabilisation and neuromuscular re-programming.
I have lectured in a part-time capacity at Salford University on the BSc. (Hons) Sports Rehabilitation programme, and at the Manchester Metropolitan University Physiotherapy programme..
Clinical Placements
I currently receive twelve to fourteen undergraduates on clinical placement from Sports Rehabilitation and Physiotherapy degree courses from Manchester, Salford, Sheffield Universities at the clinic in Stockport, as well as welcoming year 10 and A-level students on work experience placements, during the summer vacation.  
Publications
"Affects of partial and complete sleep deprivation on certain aspects of human performance"
Reilly T. and Deykin T. British Journal of Sports Medicine, 1983.
---
Victoria Wade

Victoria is the resident Podiatrist at Sport-Med who can provide detailed biomechanical assessment of the lower limb and prescribe relevant exercise advice and often orthotic shoe inserts to remedy your aches and pains.
Equally as important, Victoria can deal with soft tissue complaints of the foot and ankle, namely toe nails, verucas and corns!
More information about Victoria coming soon !
---
Our Medical Professionals
At Sport-Med we have brought together under one roof the blend of several areas of neuro-musculo-skeletal medicine by combining skills of a:

Sport-Scientist
Chartered Physiotherapist
Sports Rehabilitator
Podiatrist

Our team can give the widest perspective on your injury or condition and offer you the most effective and comprehensive programme of treatment and rehabilitation.

All of our Professionals have undertaken a three-year full time degree course and examinations, written, oral and practical, which enable them to gain membership to their relevant Professional Governing Body.

The Professional Governing Body sets standards, codes of practice and codes of conduct by which each practitioner must abide. In return the practitioner can apply for State Registration, and is given Professional Indemnity Insurance. In the case of physiotherapy this is now set at £5,000,000 and can be supplemented by becoming a member of the Organisation of Chartered Physiotherapists in Private Practice.

Other members of staff include the following:
Secretary
Bookkeeper
Accounts Clerk
---
Students
From time to time we also have on board with us students on work experience or clinical placements.

Work experience students are usually year 10 students (approx. 15 years old). They will have sent us a brief CV, and attended an informal interview. They are given a place here only if they can demonstrate that they really want to follow physiotherapy as their chosen career.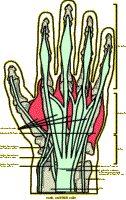 This work experience is vital to progress into physiotherapy, as Universities will no longer take students on their academic results alone. They must have shown some commitment to gaining exposure to the profession of physiotherapy or in the medical caring environment.
We may ask your consent for students to sit in on the treatment or evaluation sessions. This is entirely at your discretion, but your co-operation would be much appreciated.
Clinical placement students are over eighteen years old studying at University and usually in their third and final year, either studying Sports Rehabilitation or Physiotherapy. In many cases they have completed nearly all of their training and have only a final dissertation to complete to conclude their course.
These students by no means know it all, but what they lack in breadth of experience, they more than make up for in commitment, excellent treatment techniques and enthusiasm to demonstrate their newly honed skills. You will also find it very enlightening listening to the senior therapist, who supervises the student, explains in medical terminology exactly what is happening in your condition! Before they undertake any treatments we check out their treatment techniques and knowledge base.